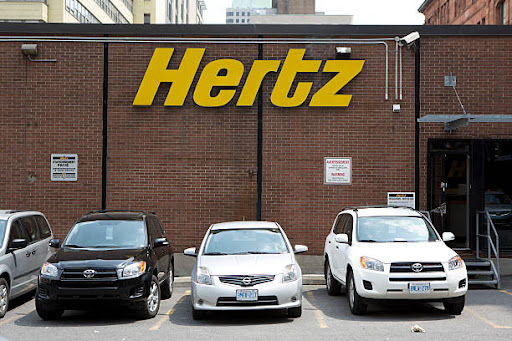 Hertz is an exclusive car rental service offering top vehicles in different cities to make movement easier. With over 2000 happy clients and a first-class service, the best way to move is with Hertz.
The process of renting a car on Hertz takes less than 10 minutes and even if you have never rented a car before, it won't be difficult for you to find something that meets your needs. We are going to walk you through each step here, so by the end of reading this article, you will have the knowledge necessary to rent a car on Hertz without any problems.
1. Open a HERTZ account
The very first step to booking a car on Hertz is to register on the platform. Your name, email address, and a strong password are the only things you need to get this done.
After successfully creating an account, you'll get a mail asking you to verify your email address, after which you move to step 2.
2. Booking
To make a booking on Hertz,
• Select your service
With options ranging from airport pick-up/drop-off to rentals and chauffeur, all you have to do is choose the one that best meets your current needs.
• Select your vehicle
This is where you get to select a car. Depending on your style and budget, we have a variety of options you can pick from.
• Select your dates and destination
The next step is to select your departure location, followed by your pick-up date, final destination state, and drop-off date. You will also specify your desired pick-up and drop-off times.
• Address
This is where you enter your pick-up and drop-off addresses. You must be as specific as possible when doing so. Include your house number, street name, and town.
• Extra
You may need other services like an escort or protocol. Let us know in the input field and we will be sure to provide it.
• If you have a promo code, this is where you use it to enjoy a good discount.
Kindly note that you need to book at least 24 hours before the due date.
3. Complete the booking
After you've successfully made a booking, you'll receive a confirmation mail from us with your booking details. You'll equally be contacted by an agent to guide you through the next steps, which include payment.
Rental Pick up & Drop off
When your pick-up date and time are due, a chauffeur will be at your pick-up location with the car. The car is also dropped off by the same chauffeur.
With Hertz, you get to enjoy amazing benefits, experience the luxury of different exotic cars, and get anywhere faster with our professional chauffeurs. Your comfort and safety are a top priority, and you get to experience top-notch service at its very best.
Are you ready for a ride? Book a car today or contact us for further inquiries.